In this article we'll go over how you can get unbanned from WoW or WoW Classic, should you find yourself in this unfortunate situation.
WoW is quite famous for its ban waves and sometimes even for false positive bans (such as the Felslate exploit in Legion).
Luckily, Blizzard games are generally pretty straight forward when it comes to contacting their Support, with WoW being similar to an Overwatch ban appeal.
With that in mind, let's first see what can get you an account restriction in WoW!
Need Help Getting Unbanned from WoW?
We're here to provide you with the best support in order to get you unbanned!
Get Unbanned!
What Can Get You Banned from WoW?
Blizzard takes the ingrity within their games very seriously, thus banning any player they suspect of breaking the rules. However, in quite a few cases, the bans proved to be a mistake.
Below are the most common reasons for which a player can get banned from WoW or WoW Classic:
third party software usage (bots, speed hacks, LUA unlockers, combat routines, etc.);
making use of certain glitches or bugs to your advantage (in raids, PvP or even in open world);
items or gold selling / buying for real money currency;
PvE / PvP boosting and carries for real money;
account selling;
toxicity or harassment.
Now that we've established the most common offenses for which you can get banned from WoW, let's go over the next most asked question, namely whether or not you can get unbanned from WoW!
Can You Unban a WoW Account?
Yes, it's definitely possible to unban a WoW account. That said, unfortunately not in every single case.
For example, here are a few circumstances that increase your change at getting unbanned from WoW:
the reason for your ban;
your account's history and previous warnings;
your behavior upon submitting a WoW ban appeal;
the number of tickets you sent so far.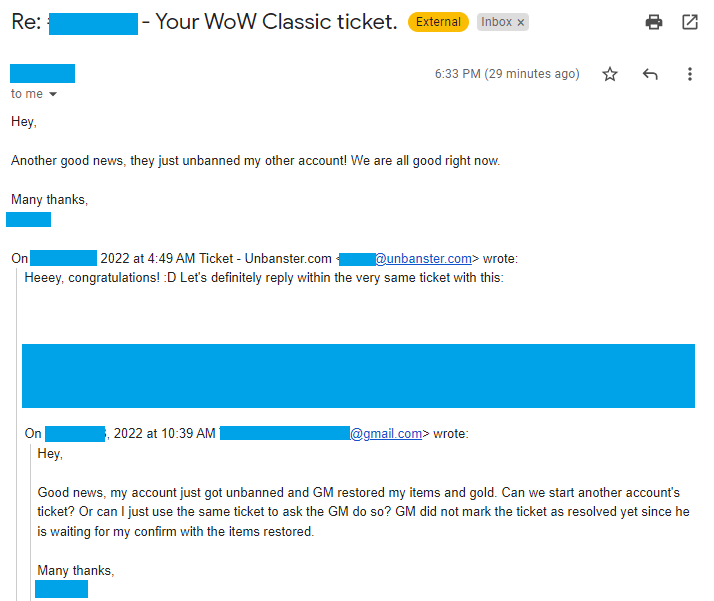 Your Ban Reason
Regardless of your ban reason, there's still a change to unban your WoW account, with one exception.
The exception here is toxicity or harassment.
If you've been banned in WoW for extreme harassment, racial slurs, hate speech, threats and so forth, you stand close to no chance at getting unbanned from WoW.
Blizzard, just like Riot with its League of Legends toxicity bans, has a zero tolerance towards this type of behavior.
On the other hand, as long as your ban is not related to the above, you stand a decent chance at getting your WoW ban removed.
Thus, let's move on to the next important factors, namely your account's history.
Got Suspended from WoW?
We're committed to assisting you with your ban appeal process!
Get Unbanned!
Your Account History as part of your WoW Ban Appeal
When submitting a WoW ban appeal, your previous warnings and suspensions matter.
Formerly known as the "WoW penalty volcano", Blizzard issues most of its restrictions in the form of temporary suspensions. They increase with every offense, leading to a permanent ban.
Thus, WoW suspensions for most offenses (including RMT, boosting and even botting sometimes) are as follows:
7-14-day suspension;
30-day suspension;
6-month suspension;
18-month suspension;
permanent ban.
However, this escalation path isn't followed in every case.
In fact, you might see a 6 month suspension right off the bat, even without prior warnings.
Just as well, you can end up permanently banned from WoW, on your very first offense.
That said, when submitting a WoW ban appeal, it's safe to say that the less (or better yet, none) previous warnings, the better.
WoW Ban Appeal Behavior
When contacting Blizzard, it's very important that you're on your best behavior.
GMs, just like everyone else, are human too. In that regard, they too make mistakes or might come across as dismissive.
That's not an excuse to be rude or offensive towards them. More so, that behavior will cause more harm than good.
They can further punish you by issuing a temporary suspension on your entire Battle.net account. These usually last for 72 hours.
Thus, when submitting a WoW ban appeal, ensure your behavior isn't considered a violation of the Game Master Interaction Policy. You can read more about their policy on it here.
In a nutshell, don't be rude or offensive. And, under no circumstance, should you make any sort of statements that could resemble a threat, be it towards the GMs or yourself.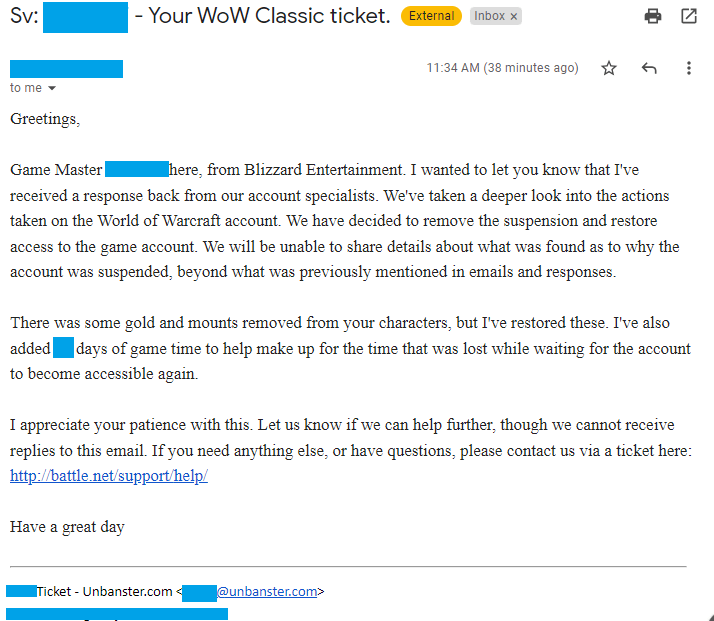 The Number of Tickets behind Your Ban Appeal
Similar to the behavior factor, you should not submit multiple tickets at the same time.
Blizzard deals with a very large number of players, across multiple games. And, as we mentioned at the beginning of this post, they issue large ban waves in other games as well.
But, they also share many GMs and Support departments across multiple games.
What this means is that, as a WoW player, you might be appealing your ban right after they issued a massive Overwatch or Diablo ban wave, for example.
Thus, your wait times will increase considerably, given the amount of players also appealing to get unbanned from Diablo.
That said, if your WoW ban appeal ticket is still "Open or Pending", and not "Closed", it's best to wait for them to answer. Don't bump it, unless it's been maybe 7-10 days without an answer.
Also, many times, GMs will escalate your case to a different department as part of the appeal process. That other department will thoroughly review your case and get back to the initial GM with their findings. In turn, the GM will then get back to you.
In an escalation situation, it's also best to not bump your ticket, as they won't forget about you. And, by bumping it, you might risk putting the ticket in front of a different GM on shift, who doesn't know about your current case.
And lastly, if you're considering giving our unban service a shot, it's best you don't submit any tickets yourself prior to that.
With that in mind, let's get to the most important part, namely how you can submit your WoW unban appeal!
Dealing with a Ban in WoW?
We're here to guide and assist you in your account recovery process!
Get Unbanned!
How to Get Unbanned from WoW
This guide applies for WoW Classic unban appeals as well!
Here's how to submit a WoW ban appeal:
Go to Blizzard's Support Center for WoW right here;

Make sure you landed on your region's version of the website. It's the EU/US at the front of the link. If it's incorrect, change it with the appropriate one.

Select "I would rather categorize the issue";

Don't write any text at this point under the "Tell us about the issue", as you can skip that altogether.


Pick "Account", followed by "Appeal account action";

Alternatively, you can go with "Not listed here", based on your issue.


Choose "Appeal a penalty" then "Continue";

Confirm your decision by picking "Continue appeal" on the next screen.


Fill in your WoW ban appeal;

We've got your back on this one! Since 2015, we've successfully overturned countless similar bans with our professional and customized unban service, designed to help you get unbanned from WoW!

Source – battle.net/support/
Once you've completed the form, press the "Continue" button underneath. Your WoW ban appeal ticket will be sent to Customer Support!
Now that everything is done, wait until they review your WoW ban appeal and get back to you with their reply via mail. Also, make sure to check the Spam folder as well! Good luck!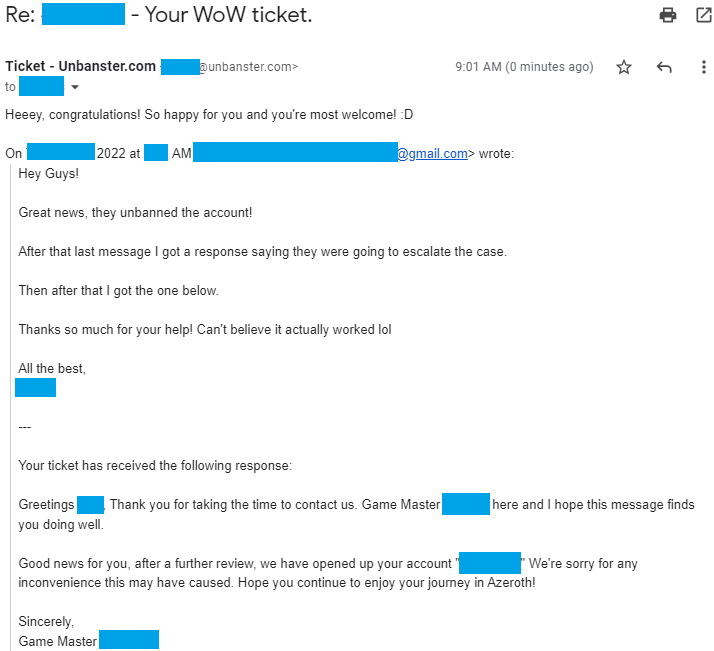 Getting Unbanned from WoW Classic
In case you were looking for another form or Support section for WoW Classic accounts, there isn't a different one at this point.
Instead, you can appeal to get unbanned from WoW Classic through this very same form.
Thus, if you have an account banned in WoW Classic, you can still choose your Classic license from the exact same Game License field.
Want to get unbanned from WoW?
We're here to give you the best help in order to get your account unbanned!
Get unbanned!