In this article, we'll go over what you can do in order to get unbanned from Valorant, should you ever find yourself in that situation.
Valorant is Riot's newest addition to the gaming scence, and even more so, its first time dipping into the FPS genre.
Ever since it was annouced, the game has been an absolute hype for a lot of players, including some of the most popular FPS players and Twitch streamers, and is currently on the first position on the streaming platform as well!
Apart from being a very fun and new game, Valorant is also enjoying waves of players coming from games such as CSGO and Overwatch.
Now, as we know with any competitive game and especially with the ones in the FPS genre, one of their key ingredients to success is fairness.
On top of that, Riot is a company known to take that very seriously, as they also do with League of Legends, and thus, breaking the rules can quickly result in an account ban.
So, with that in mind, let's go over the reasons for which bans are issued, and whether you can unban a Valorant account!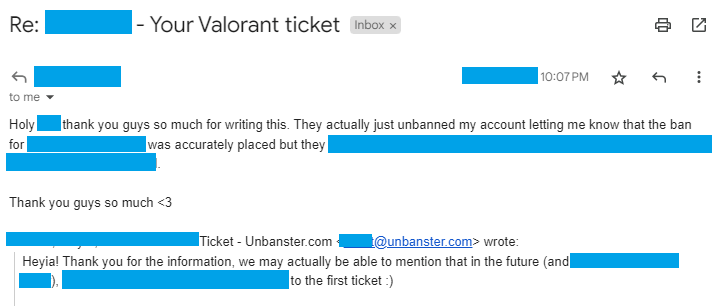 Can You Unban a Valorant Account?
While the offenses below are also applicable and bannable in both FPS and Battle Royale games as well, including PUBG, Apex Legends or Fortnite, here are some of the most common reasons for which someone can get banned in Valorant:
cheating – regardless of reason, software, method and such;
gaining unfair advantage over other players through glitches, bugs and other in-game unintended features;
toxicity – and any other form of griefing, harassing, insulting other players;
sharing your account – regardless of reason, especially since it's a free-to-play game;
buying or selling accounts.
When it comes to whether or not you can unban a Valorant account, that always depends on the ban reason.

For example, a player banned for extreme toxicity or racism will stand close to no change at getting unbanned in Valorant. Riot takes hate speech very seriously, so there isn't much you can argue about.
Luckily, those are very rare cases, as not all toxicity bans pertain to it.
On the other hand, if you got punished for mild toxicity (flaming, arguing, being annoying and such), you stand a much higher chance of unbanning your Valorant account.
Same goes for cheating accusations, especially if the ban comes as a result of a false positive.
As for account sharing related actions, you need to be able to prove your ownership as part of the Valorant ban appeal process. That is, if it comes down to it.
Now that we've gone over the reasons for which an account can get restricted, let's also see how a player can submit an appeal in order to get unbanned from Valorant!

How to Get Unbanned from Valorant
The process of submitting a Valorant unban appeal is quite simple, and it takes place entirely on Riot's official website, right here.
Once you're there, you need to click on their "Support" link at the top-left of the page, which will take you on the Support center here.
On here, you need to scroll to the bottom of the page, and click on the red "Submit a ticket" button.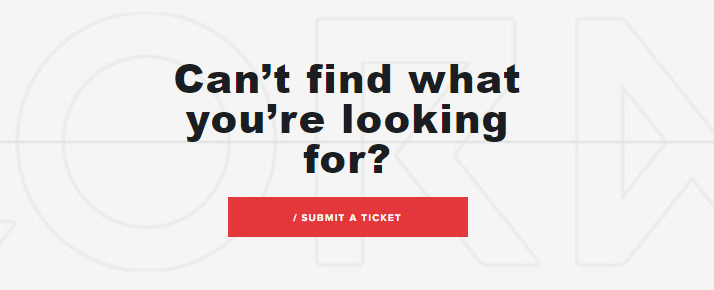 Source: support-valorant.riotgames.com
You'll then be prompted to log into your banned Riot account in case you aren't already, and then you'll be taken to the actual Valorant unban appeal form, which you'll need to complete as such:
select "Discuss Personal Suspension or Restriction" under the "Request type";
under "Subject", you can write something concise yet relevant, such as "Valorant ban appeal";
under the "Description" field, that's where we come in handy, should you require our professional and customized Valorant unban service designed to get you unbanned from Valorant;
choose "Discuss Game Bans" under "Inquiry";
select the correct duration of the ban – pick "31+ Days" for permanent bans;
based on the type of Valorant ban you received, under "Do you know why your account was suspended", you can choose:

Inappropriate Chat Communication / In-Game Behavior for toxicity bans;
Third Party Programs for allegations of cheating;
Hacked / Compromised account if the ban came as a result of an account compromise;
Unsure if you have no idea why you got banned from Valorant.

attach any relevant files, if any (optional).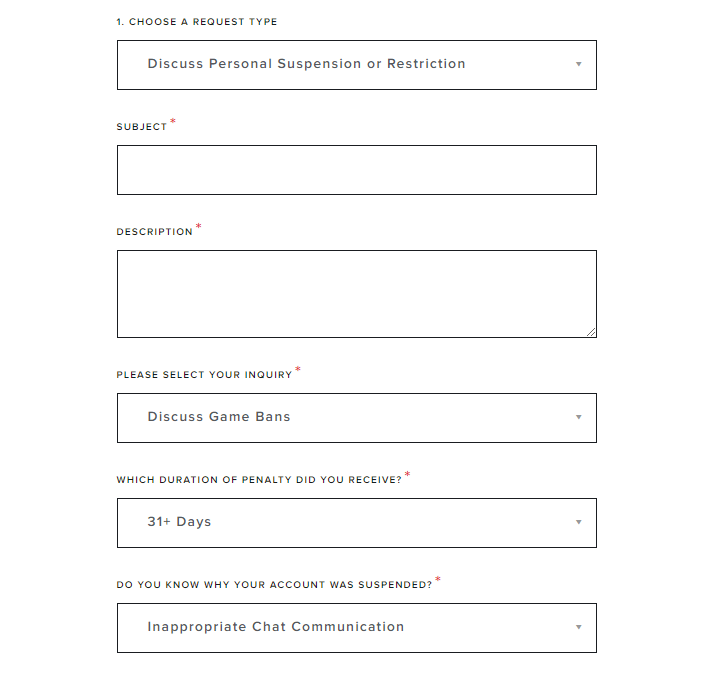 Source: support-valorant.riotgames.com
Do note that if your ban came as a result of your account getting compromised, you'll also be required to verify your account ownership through a few extra fields as part of the Valorant unban appeal, so you should have this information ready.
Once all of that is done, all you need to do is press the red "Submit" button underneath the Valorant ban appeal form, and your ticket will be sent to Riot for review.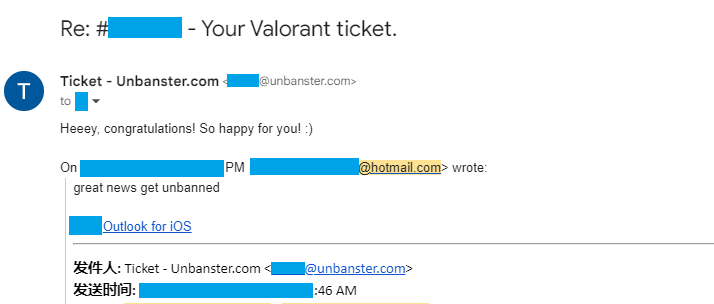 Make sure to keep an eye on the email for an answer, which will be the same email address you've signed up for a Riot account with!
That's all there is to it! Hopefully this step by step guide was helpful in regards to your banned Valorant account, and if you ever require our help, we're here for you!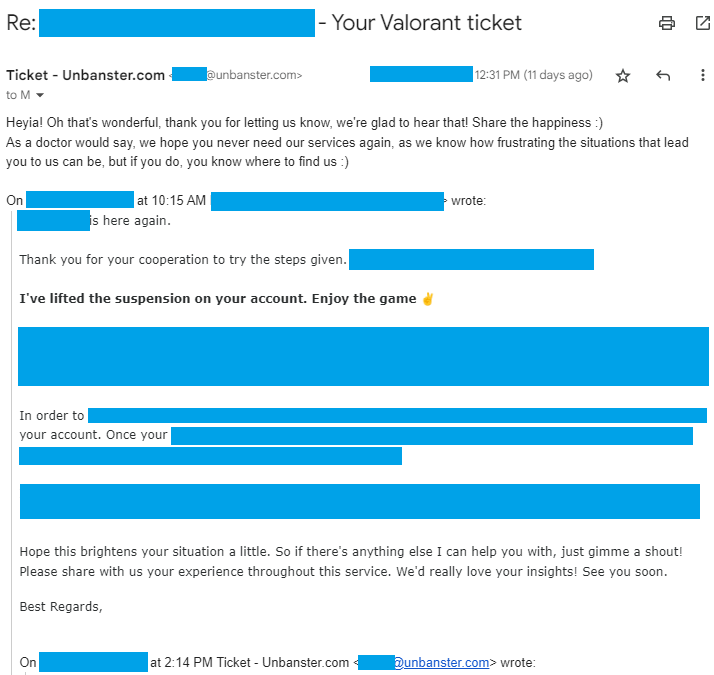 Want to unban your Valorant account?
We're here to give you the best help in order to get you unbanned!
Get unbanned!
Article published on April 7, 2020
Last updated on May 31, 2023