World of Tanks is a quite unique and competitive MMO game. The latter also being the reason for which sometimes, some players find themselves getting banned in WoT due to various reasons, ranging from false positive to being accused of using third party software and such.
Their Support however does offer a chance for banned players to submit a ban appeal, in the hopes of getting their WoT account unbanned, and in this short guide, we'll show you how to do just that!
Need Help with a Banned WoT Account?
We're here to provide you with the best support in order to get you unbanned!
Get Unbanned!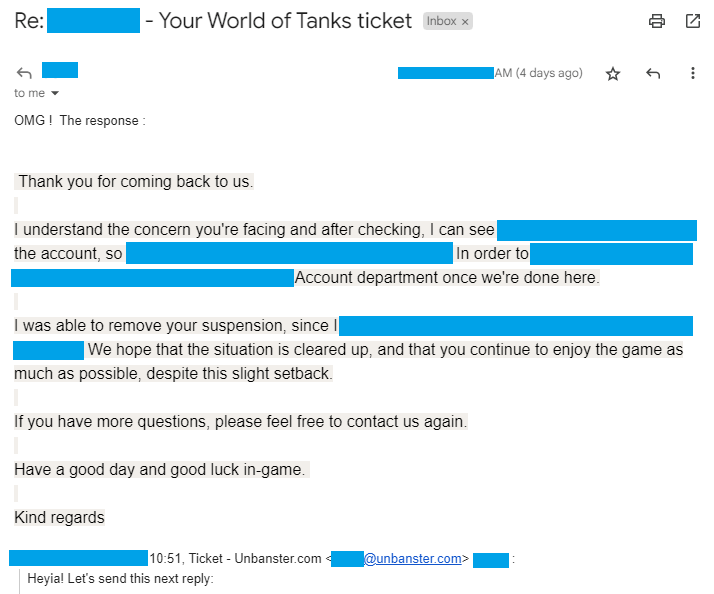 How to Get Unbanned from WoT
Scroll down, and click on the Contact Support yellow button, then press "Continue";
Here, you'll be provided with a list of issues, from which you need to select the Rule violations option;
Afterwards, select My account is suspended – I want to appeal, then press "Continue";
On this "What's the appeal related to?" page, you'll need to select whichever options applies to your World of Tanks account ban, but for this guide, we'll select Game restriction, followed by Game modifications – Unfair Play Policy;
Once you've pressed "Continue", you'll reach the World of Tanks "List of forbidden features" page, on which you need to scroll at the bottom and click on Create ticket;
You'll be prompted to log into your WoT account (if you're not already logged in), and right after, a text field will popup, for you to describe your WoT account ban issue;
Now, as for your World of Tanks ban appeal Describe your issue field, that's where we come in handy, should you require our professional and customized WoT unban service designed to get your World of Tanks account unbanned!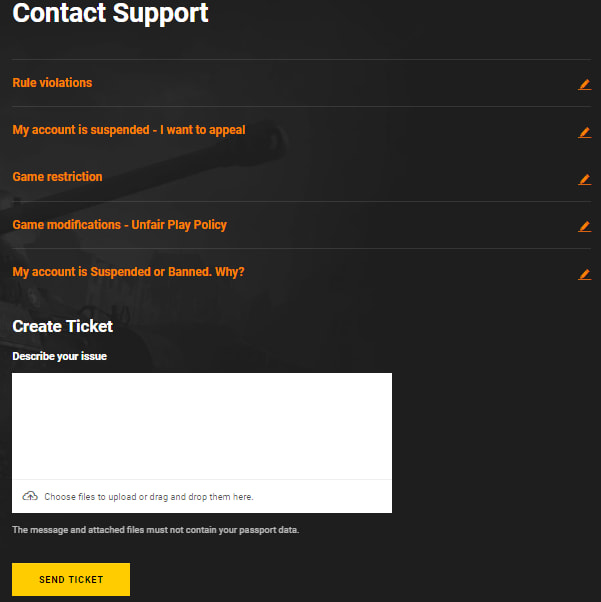 Once you've completed the form for your WoT account unban appeal, press the Send ticket button at the bottom of the page, and your ticket will be sent to WoT Customer Support!
All that's left to do now is wait until Customer Support reviews your WoT account unban appeal and get back to you with their reply via mail. As a hint though, make sure to check the Spam folder as well! Best of luck!
Need help with a World of Tanks account ban?
We're here to give you the best help in order to get your World of Tanks account unbanned!
Get unbanned!