Warframe is a very popular game, and, as it happens with every popular game, it has its fair share of account bans. In fact, just recently, there's been quite a bit of a ban wave for Warframe negative platinum balance, which resulted in a fair amount of players getting banned from Warframe due to this.
This kind of problem arises when players purchase platinum from different sources, which are not authorized by Warframe, at a much lower price, and then use that platinum to purchase in-game items, slots, forma and so on.
On top of that, as with any competitive third-person shooter game, a lot of people are inclined to use tools such as hacks or aimbots, and more so, a lot of other people are inclined to report someone, knowing that such software is available, assuming someone is using it. Either way, regardless of the reason you got banned for, here's our Warframe account unban appeal guide, which you should follow in order to try and get unbanned from Warframe, assuming you find yourself in this situation.
So, let's get right to it!
How to Submit a Warframe Unban Appeal
First things first, namely, log into your Warframe account by clicking here;
Once you've logged into your banned Warframe account, proceed to the Submit a Request link, so you can start your Warframe account unban appeal;
Once you're here, click on My Account;
Finally, you're on the Warframe account unban appeal form, where you need to fill in the details in regards to your Warframe banned account;
Under "Subject", write something concise yet relevant, such as "Ban Appeal";
Under "Category", pick "Account is Banned/Suspended";
Attach any relevant files, if any (not mandatory);
As for the "Description", here's where we can be of help, should you require our professional and customized Warframe unban service designed to get your Warframe account unbanned.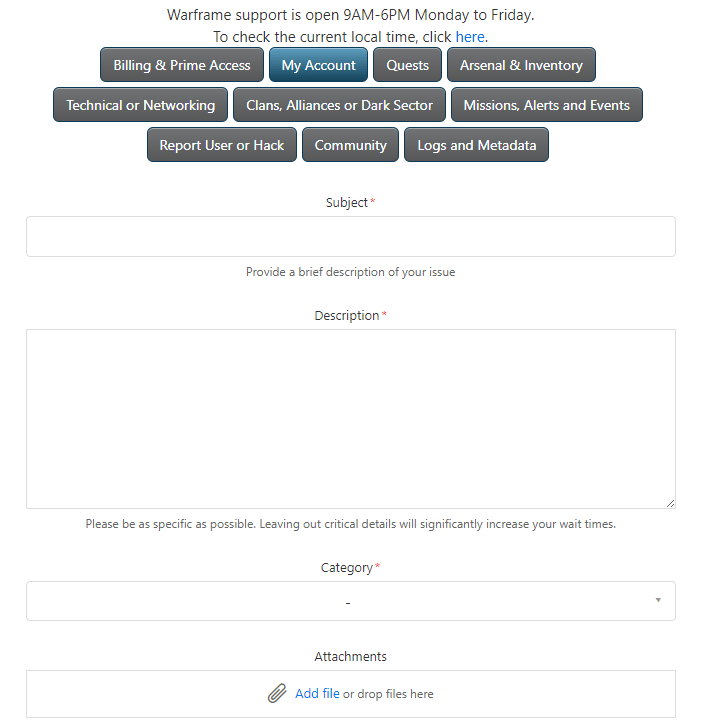 Once that's done, simply press the "Submit" button below, and your Warframe account unban appeal will be sent to Customer Support, to review your case.
Until you hear back from them, via mail (the one you've registered your Warframe account on), don't submit any other tickets, as to not further slow down the ticketing system. Also, make sure to keep an eye on the Spam folder every now and then!
So, this is it! Regardless of the accusation behind your Warframe banned account, we hope that our guide on how to submit a Warframe account unban appeal was of help, in order to get your message to Support and have it investigated!
Need help with a Warframe account ban?
We're here to give you the best help in order to get your Warframe account unbanned!
Get unbanned!