In this article, we'll cover the steps on how to submit a ban appeal in order to get unbanned from Hunt Showdown!
Although it can also be described as a Battle Royale with its Quickplay mode, Hunt Showdown brings quite a few unique elements to the table, such as the Bounty Hunt game mode, where you can play either solo or as a part of a team to do just that, namely completing bounty contracts.
Regardless of the game mode you play, Hunt Showdown is a very competitive FPS game, where only the best player or team can win and thus, players need to everything they can in order to achieve victory.
That said, as with every competitive online game, some players might choose to take certain shortcuts or make use of unintended things to achieve said win, which in turn, can and will lead to them getting banned in Hunt Showdown.
With that in mind, let's go over the things that can lead to an account being banned in Hunt Showdown, as well as what you can do to avoid being in said situation.
Need Help with a Banned Hunt: Showdown Account?
We're here to provide you with the best support in order to get you unbanned!
Get Unbanned!
What Can Get You Banned in Hunt Showdown?
Even though there are quite a few reasons for which a player can get banned in Hunt Showdown, we'll list the most common ones below:
cheating, including third party software and making use of glitches or bugs;
toxicity, including abusive chat, offensive Steam names, harassing or stalking;
team killing, as killing your own teammates this can be interpreted as another form of toxicity.
Although these are the most common Hunt Showdown account ban reasons, you can find the entire Code of Conduct here.
Now that we've established the bannable offenses and what you should avoid doing, let's see what you can do in order to get unbanned from Hunt Showdown if you somehow find yourself in this unfortunate situation!
How to Get Unbanned from Hunt Showdown
Based on the type of ban received, you might also want to check how to appeal it via EAC, so below, we'll cover the developer issued ban.
The first thing you need to do in order to start your Hunt Showdown account unban process is to go on their official support website here and log into your account.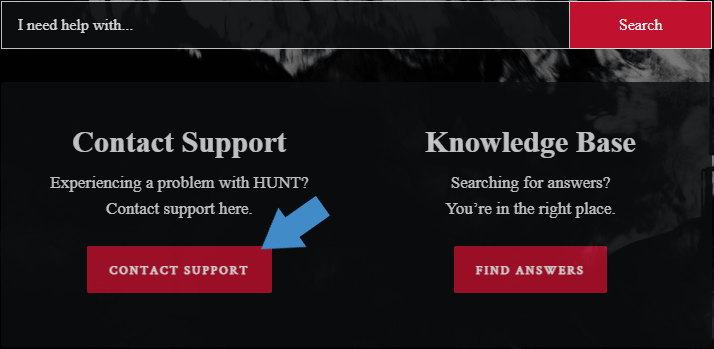 Once that's done, click on the red "Contact Support" button, then select "Banned account inquiry".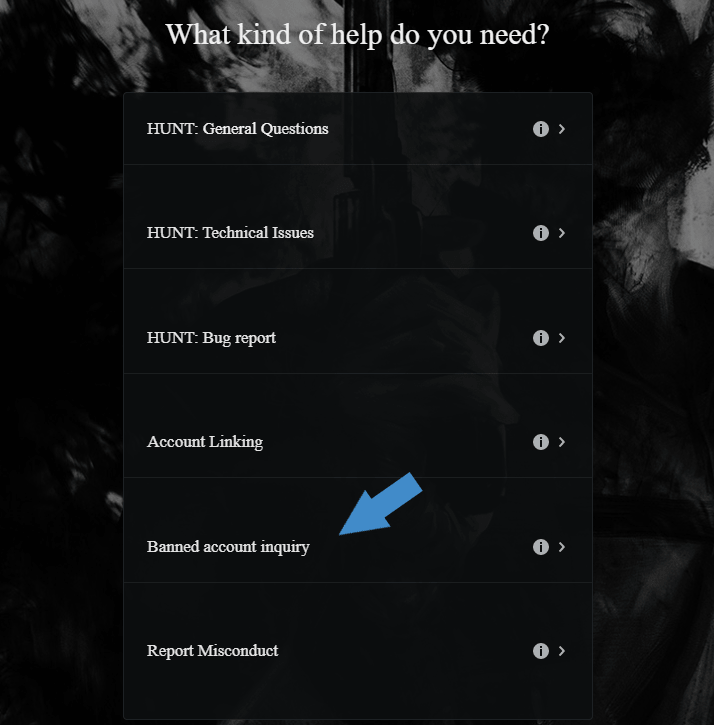 Got Banned from Hunt Showdown?
We're here to assist you with your ban appeal process!
Get Unbanned!
This will land you on the actual Hunt Showdown unban appeal form, which you'll need to complete as such:
input a concise and relevant subject, such as "Hunt Showdown ban appeal";
upload any relevant files or screenshots, if any;
select the platform on which you played and got banned from Hunt Showdown, such as "PC";
enter your Steam Name, Steam ID and Gamertag;
choose the server on which you play, such as "US – East";
write your ban appeal under the "Message" field. This is also where we can come in handy, should you require our professional and customized Hunt Showdown unban service designed to get you unbanned from Hunt Showdown.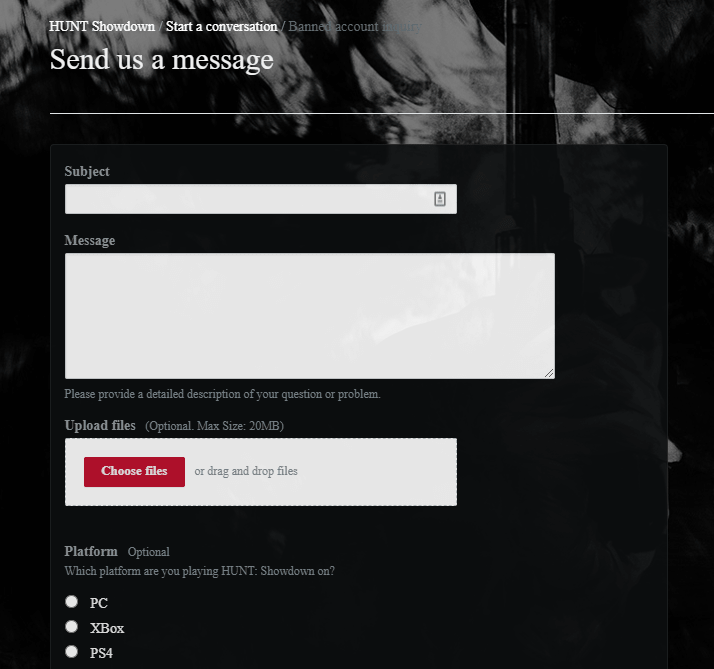 Once everything is filled in, press the red "Send" button underneath the form, and your appeal will be sent to the game's Support department for review.
That's all there is to it! Hopefully our guide was helpful regarding your banned Hunt Showdown account, and if you ever require our help, we're here for you!
Need help with a banned Hunt Showdown account?
We're here to give you the best help in order to get you unbanned!
Get unbanned!