In this article, we'll go over how to get unbanned from Dead by Daylight, should you ever find yourself in that tough situation.
Dead by Daylight is probably the most popular survival horror game, with a secured place among the most played titles on Twitch, alongside PUBG, Overwatch, Apex Legends and Rainbow Six Siege.
Essentially, the goal of Dead by Daylight, where 4 players are matched together against a 5th player who is the killer, is to survive the latter and avoid being caught and killed.
It goes without saying that such a game is not only scary and tense, but also extremely competitive, and what's very common for competitive games are account bans, especially when a player is suspected of breaking the rules.
So, while on that topic, let's see what are some of the most common reasons for which a player can get their account banned from Dead by Daylight!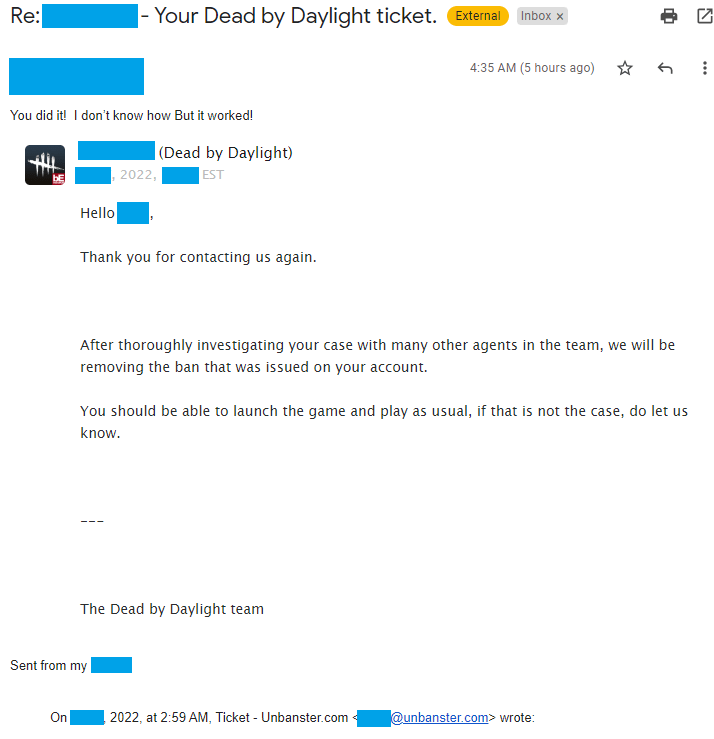 Need Help with a Banned DBD Account?
We're here to provide you with the best support in order to get you unbanned!
Get Unbanned!
What Gets Your Account Banned from Dead by Daylight
As per their official Terms of Use here and similarly to its competitor, given The Texas Chain Saw Massacre account ban reasons, we can identify the following most common reasons to get an account banned in Dead by Daylight:
harassment, toxicity, spamming, defamatory, hateful and other such offensive type of behavior towards other players generally in-game;
usage of any type of third party software in order to obtain an unfair advantage over other players, such as hacks, cheats, bots and so forth;
false reporting other players;
making use of glitches, exploits, bugs or other unintended features to gain advantages in-game;
selling or buying in-game services or currency through unauthorized third party sources.
Now that we've established the most common reasons for which an account can get banned from Dead by Daylight, let's go over what can be done in order to recover it!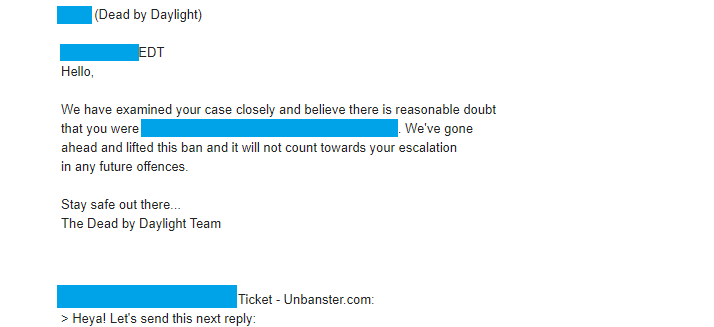 Got Banned from Dead by Daylight?
We're here to assist you with your ban appeal process!
Get Unbanned!
How to Get Unbanned from Dead by Daylight
To unban a Dead by Daylight account, you must submit a ban appeal via their Support website.
Here's how to do that:
Choose "Dead by Daylight" as the game you're inquiring about;

For the mobile version of the game, you can choose "Dead by Daylight Mobile".

Input your email address and name;

This will be used as a contact avenue, once they finish reviewing your ban appeal.

Fill in your Player ID and choose the platform you play on;

For PC players, make sure you select the secondary platform as well, such as Steam, Epic Games or Windows.

Select your contact reason;

For our issue, you can go with "Ban Appeal", followed by the date of the incident (this is optional).

Input a concise and clear subject;

This can be "Dead by Daylight Ban Appeal" or depending on the nature of your issue, "Wrongfully Banned from Dead by Daylight".

Write your ban appeal under the "Description" field;

We've got your back on this one! Since 2015, we've successfully overturned countless similar bans with our customized and professional unban service, designed to get you unbanned from Dead by Daylight.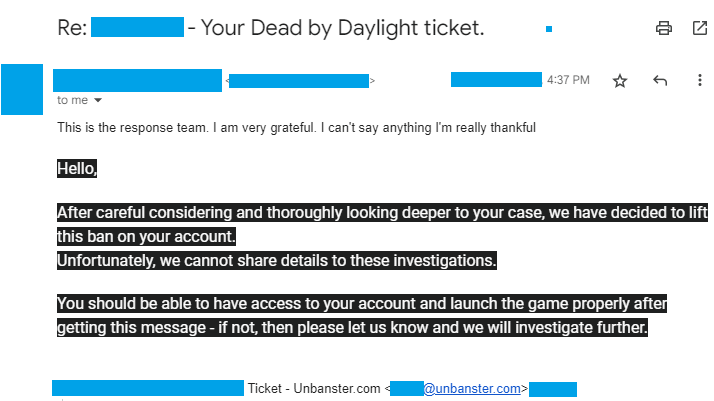 Note that for EAC bans, you must submit the appeal via their particular website. Here's a different guide on how to submit a EAC ban appeal.
Once everything is completed, click on "Submit" underneath the form and your ban appeal will be sent to the Customer Support department for review.
This is it! Now that your Dead by Daylight ban appeal has been sent, all you need to do is wait for their reply, as they'll get back to you via mail once they have an answer, so make sure to keep an eye on it! Best of luck!
Need help with a banned DbD account?
We're here to give you the best help in order to get your account unbanned!
Get unbanned!